Amanda, Full-time Registered Dental Hygienist (RDH)
Amanda graduated from Bergen Community College in Paramus, New Jersey with an Associate's Degree in Dental Hygiene. She has always enjoyed helping people, she has a great sense of humor and patients are love her.
Amanda is gentle and very caring. She thoroughly enjoys dental hygiene and seeing her patients smile makes it effortless. She enjoys educating patients on the benefits of good oral hygiene as well as collaborating with colleagues to create patient specific treatment plans.
Amanda was born in the Dominican Republic and moved to the United States with her family when she was three years old. She played softball and soccer at her local High School. She became an certified EMT and worked as a volunteer for Hackensack Ambulance for 2 years. She has a 6 year old daughter who is a ballet dancer.
In her free time, Amanda loves spending time with her family and is an avid runner.
Amanda joined AFD in August of 2020, and we are fortunate to have her as part of our team.
---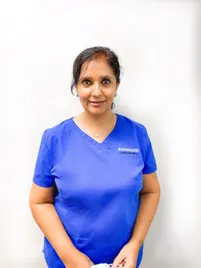 Rizwana, part-time dental assistant
Rizwana is a dental Assistant and has over 28 years of dental experience. She has been with Advanced Family Dentistry since 2018. She enjoys working with Dr. Fernandez and interacting with our patients. Rizwana is kind, compassionate, and an absolute joy to have as part of our AFD family.
In her free time, she enjoys painting and spending time with her grandchildren.